Saint Valentine
The Mysterious "Saint of Love"
The Catholic Church celebrates three saints with the name Valentine that were martyred on February 14th. One man was a priest in Rome. Another was a Bishop in Interamna (today's Ternin in Italy) and the third was a priest that died in Africa. The first two men are often believed to be the same person while nothing more is known of the third except that he died among a group of men. Ask us about Maine or share your Maine comments. To feature your Maine business in Maine's Internet Magazine, contact us.


The Kennebunk Inn, 45 Main Street, Kennebunk, ME 04043 | 207-985-3351
If you are searching for an historic inn with affordable class and fabulous food in southern coastal Maine - The Kennebunk Inn is the place. Beautiful beaches, nature preserves, museums, galleries, antique shops, and more. We look forward to sharing our special place in the land of the pointed firs.
Visit The Kennebunk Inn ~ Kennebunk, ME
---

DiMillo's on the Water, 25 Long Wharf, Portland, ME 04101 | 207-772-2216
DiMillo's is where you'll dine on lobster, clams, shrimp, scallops and fish that are absolutely the freshest on the waterfront and prepared with ingredients that enhance rather than disguise their flavors. The perfect place for dinner, weddings, parties and office functions. Simplicity, freshness and quality are the recipe for DiMillo's amazing menu choices since 1954.
Visit DiMillo's On The Water Restaurant
---


Maine Diner, 2265 Post Road (US Route 1),Wells, ME 04090 | 207-646-4441
Featured on "The Today Show", Phantom Gourmet, Guy Fieri's "Diners, Drive-Ins and Dives" and others. Maine blueberry pancakes, pies, lunch and dinner specials and more. World Famous Food Like Grandma Used To Make. Try Maine Diner's famous Lobster Pie, Seafood Chowder, Codfish Cakes. Breakfast anytime. Remember the Maine Gift Shoppe, Maine Products. Open Daily at 7AM..
Visit Maine Diner in Wells, Maine
---


Beachmere Inn, 62 Beachmere Place, Ogunquit, ME 03907 | 207-646-2021
Ocean front accommodations in the heart of Ogunquit on the Marginal Way with breathtaking ocean views. Luxury suites and unique rooms, fireplaces, kitchenettes, private balconies or patios. Enjoy an on-site spa, exercise room and hot tub. Reception rooms for weddings, meetings and events. Beachmere Inn is a leader in guest services, event coordination and hospitality. A stunning location perfect for weddings, elopements, vow renewals, rehearsal dinners, bridal showers and even bachelor - bachelorette weekend getaways. Open year round. Walk to everything in town or enjoy drinks from our ocean view Blue Bistro.
Visit Beachmere Inn - Ogunquit ME
---

Blazes Burgers, 652 Main Street, Westbrook, ME 04029 | 207-591-0331
A locally owned Restaurant that serves FRESH Burgers, Clam Cakes, Chicken, Sloppy Joes and more with your choice of Hand Cut French Fries, Tater Tots, or many other delicious options. The Beyond Burger works for our Vegetarian/Vegan friends and we have a great children's menu! Try a signature selection today and see what everyone is talking about. View menue and order online.
Visit Blazes Burgers - Westbrook, ME
---
There are many legends surrounding Saint Valentine. The most popular makes him the saint of marriage. It is said that Valentine was a Roman Priest during the reign of Roman Emperor Claudius II. Claudius decided that single men made the best soldiers because they did not have families, so he canceled all engagements and forbid marriage in Rome. Valentine disagreed with Claudius and continued to perform marriages in secret. He was discovered, imprisoned and sentenced to death around 270 AD.
Another legend claims that Saint Valentine was a strict follower of his faith. Although practicing Christianity was a death sentence under Claudius II's rule, Valentine refused to worship Roman Gods. He helped free other Christians that were imprisoned under Roman law. When he was captured he was sent to prison. While in prison he healed the jailer's daughter of blindness. He fell in love with her and before his death sent her a letter signed "Your Valentine" and so the tradition of Valentine's began.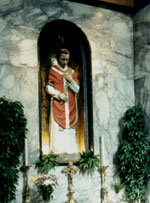 A third legend claims that saint Valentine was well loved by children. When he was arrested for practicing Christianity he was missed by the children. They began sending him loving letters and flowers through the bars on his cell window. This is also claimed to be the origin of gifts, cards and flowers on Valentine's Day.
It is believed that Saint Valentine was beheaded on February 14th. It was made a feast day by the Church in 498 AD. The remains of the saint were given to an Irish priest after a passionate sermon given in Rome by Pope Gregory XVI. These remains can be seen every Valentine's Day in Dublin, Ireland. Because of the confusion about who Saint Valentine really was, the Catholic Church dropped the feast day from the official Roman Catholic calendar in 1969.
Although Valentine's day is no longer recognized religiously, it has continued to gain popularity throughout the years. Cards, flowers and candy continue to be the favored gifts exchanged on Valentine's Day. But in more recent years, romantic dinners and weekend getaways have become more popular.
By Tabitha Fitzgerald
Read about Valentine's Day History and more information about the Holiday of Love.
Did we miss something? Add your update or comment.
Golfing | Events | Attractions
Pet Friendly Lodging | Personals
Weddings | Products | Maine Towns